Flowers of Fairhaven
A Very Local Honey
About my honey:  Dark, intensely flavored. A hint of citrus, a whisper of thyme, with notable accents from Fireweed and Himalayan Blackberry.
Flowers of Fairhaven honey is a bee-determined blend from all the nectar-bearing blooms the bees were able to access since earliest spring when warming weather allowed them to begin work on this year's honey harvest.
My honey is lightly strained, direct from the hives, never heated or filtered. All the healthful enzymes and pollen grains provided by the bees are still in this honey when it comes to your table. It's a one-person, all by hand operation that begins with healthy bees and ends in my own kitchen.
Flowers of Fairhaven honey comes in pint glass canning jars, 1.5 lbs. of delicious, healthful honey from right here in Bellingham, WA near Lake Padden and Chuckanut Falls.
Pints:  $20    To order:  Contact Michael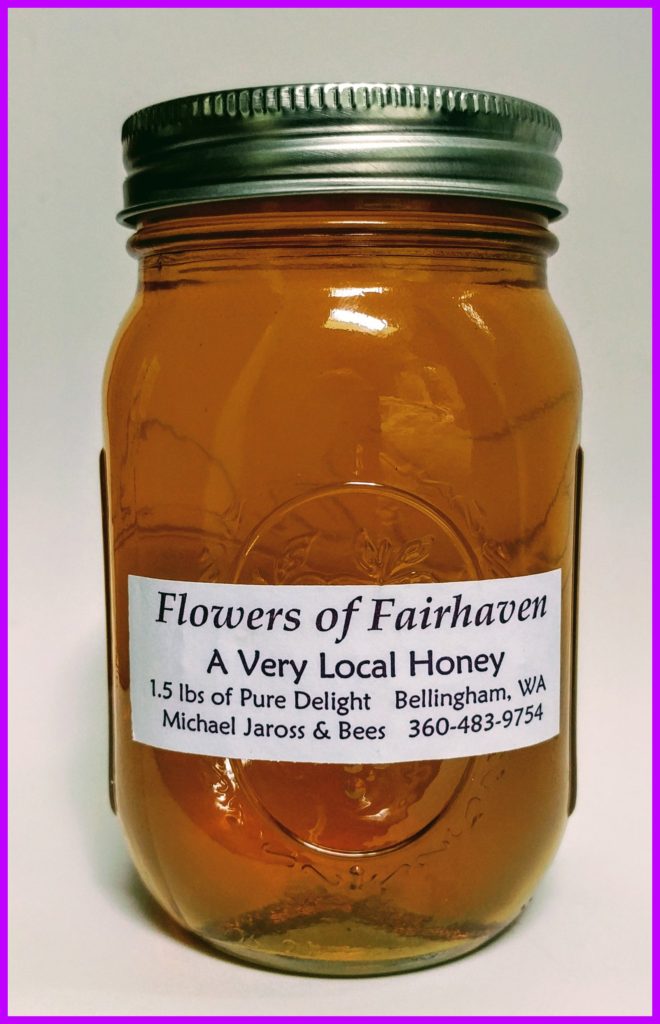 Flowers of Fairhaven
Pure Local Beeswax
Double-refined from honeycomb cappings, fresh every season.  From my hives near Chuckanut Falls and Galbraith Mountain, just at the southern edge of Bellingham, WA.
Available in 2½" x 2½" x 1″ squares, wrapped to preserve freshness. $10 each.